St. Johns

, FL Pest Control
Reliable Pest Control In St. Johns, FL
Located less than a half-hour drive from Jacksonville, the community of St. Johns is considered one of the area's most desirable suburbs. With good schools, businesses and restaurants of many kinds, and easy access to the St. Johns River, it's no wonder why so many people look to call the area home. The conditions in St. Johns are reliably temperate for half of the year but are accompanied by a late spring to early fall that is warm, humid, and filled with rain. Because of the local climate, pest problems could arise at any time. But with professional pest services from Trad's Pest Control, that doesn't have to be the case. Since 1971, we've been keeping the homes and businesses of St. Johns pest-free with our dedication to eco-friendly treatments and high-quality service. We are a QualityPro certified company, which means that our technicians have undergone extensive training and will bring you the highest level of service with each visit. For more information on how your property can benefit from our offerings, contact us today.
Residential Pest Control In St. Johns, FL
Your St. Johns home deserves the best protection from pests no matter the season, and at Trad's Pest Control, it's our mission to ensure that this is the case. As a family-owned and locally-operated business since 1971, every home matters to us. It's why we treat every residential pest control customer like family, and it's why we live by our "100% Integrity, 100% Effort, 100% of the Time" motto. All of our technicians are extensively trained and QualityPro certified to ensure you receive the very best service possible. And in our commitment to your complete safety, we only use eco-friendly products that are safe for people and pets.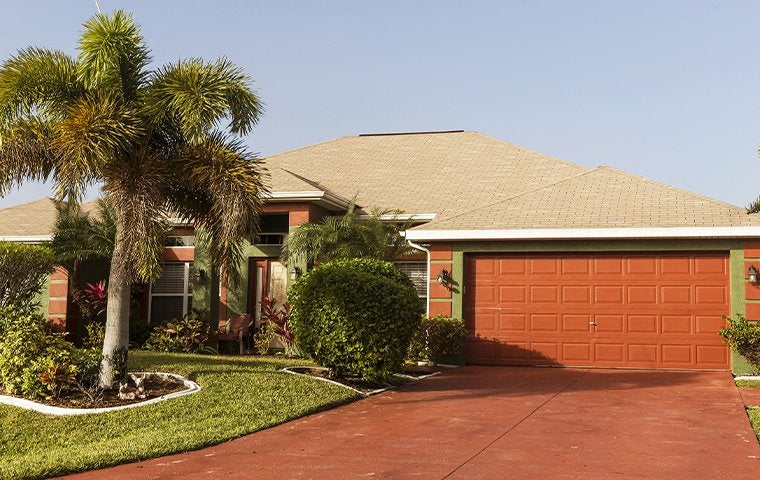 When you contact Trad's Pest Control, you will always receive a thorough and free initial inspection that is designed to determine pest activity and potential issues. From there, we treat both the interior and exterior of your home with organic products in order to both eradicate current problems and prevent future ones. If your needs surpass the confines of our general residential pest control plans, we also offer targeted solutions for pests like termites, mosquitoes, and stinging insects, as well as professional lawn care. With professionalism, dedication, and attention to detail, the team at Trad's Pest Control is the clear choice for all of your pest control needs. Contact us today for more information.
Commercial Pest Control In St. Johns, FL
Pest problems mean big problems for St. John's businesses, but when you partner with Trad's Pest Control, you don't need to worry about pests. Our technicians are all QualityPro certified in order to provide you with the highest level of service, and with our use of exclusively organic products, you'll never have to sacrifice anyone's safety. With 50 years of experience working with local businesses, we're experts in working with businesses in many industries as well as the ways that the climate can impact the pests that you'll encounter. We provide commercial pest control services that are completely customized to your unique needs, whether that involves protection from termites or getting rid of the ants that have made their way into your kitchen. With a dedication to your complete satisfaction and always acting with integrity and generosity, we aim to always provide your business with the best commercial pest control around. For more information on our offerings, contact us today.
The Dangerous Truth About Cockroaches In Your St. Johns Home
Cockroaches are a very difficult pest to get rid of once they've gained access to your St. Johns home. They take advantage of shared walls if you live in an apartment complex, use sewer systems, arrive in contaminated packages, or simply crawl into your home. From there, cockroaches proceed to spread dangerous pathogens that lead to salmonellosis, streptococcus, staphylococcus, diarrhea, dysentery, and other gastrointestinal distress. Cockroaches can also cause allergic reactions and asthma attacks in some people. They do this by leaving behind saliva, shed body parts, and their feces. Roaches are also such a dangerous problem for St. Johns homeowners because they reproduce quickly, are hard to crush because of their hard exterior, and the most common species of cockroach, the German cockroach, is growing immune to many over-the-counter pesticides. But with professional cockroach control from Trad's Pest Control, you don't need to fear cockroaches. With 50 years of experience and a dedication to eco-friendly practices, we get rid of cockroaches and keep them from returning. For more information on cockroach control that you can trust, contact us today.
How Can I Tell If My St. Johns Home Is At Risk For Spider Problems?
Spiders are attracted to St. Johns homes either in search of moisture or for food, which comes in the form of other pests. They primarily eat pests like flies, gnats, mosquitoes, and cockroaches, all of which could become a problem in your property at any given point due to the area's excess humidity. And similarly, if you spot a spider problem in your home, it's a very strong indication that you have an active pest problem on your property as well. That's why in order to keep spiders out of your home, enlist the help of Trad's Pest Control for professional spider control that you can trust. For more information on these offerings, contact us today.
The Best Rodent Control In
St. Johns

 & Nearby Jacksonville Area Communities: